Apple recently decided to make their own FTDI driver with the release of OSX 10.9 Mavericks. This broke compatibility with Arduino & USB DMX interfaces based on an FTDI chip. Here is how to disable the new driver and use the old FTDI driver. All your apps will be working again like they should.
Compatible with OSX Mavericks+ 10.9.0 / 10.9.1 / 10.9.2+
[su_spoiler title="Fix FTDI Drivers" style="fancy"]
First, download the "OS X FTDI Driver Control" app Here, extract and run the application :
On the main screen, it should say that the FTDI driver is "ENABLED", this means that the Mavericks driver is loaded and your DMX software does NOT work. to disable the driver, click the big button: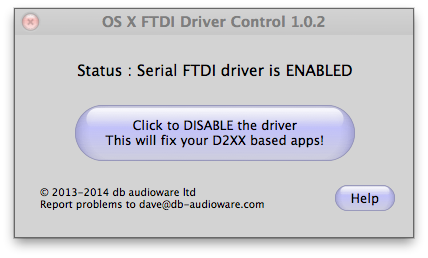 The app will ask for your admin password,
Fill in  your password and click "Ok". Your Mavericks driver is now Disabled and your software should work again.
[/su_spoiler]