There are different reasons why you would want to upgrade, your current version is too old and newer games won't launch anymore, you can't play online anymore since Sony requires a higher firmware… or you are just not satisfied with your current setup… all are good reasons to upgrade but you don't want to lose any of your game progress. So here a detailed update guide including backing up your data.
[su_spoiler title="Requirements" style="fancy"]
– PS3 with any Custom Firmware (CFW) installed.
– CFW version newer than the version you have installed
– 1GB+ USB stick (format as Fat32)
– Remove any Blueray Game disks NOW!
[/su_spoiler]
Warning: It's highly recommended to backup all your data as upgrading a CFW  may sometimes need your ps3 to be reset.
[su_spoiler title="Preparation/Backup" style="fancy"]
First Check if your PS3's current version is lower than the version we want to install: turn on  your PS3 and navigate to Settings-System Settings-System Information:
(if you want to install a lower version, you need This downgrader Guide)
To back up your save data, plug in your USB stick, then navigate to "Game"-"Saved data utility (PS3)"-"Then select your first savegame, hit triangle and select "Copy multiple", "then on the right, click "select all" and then OK, now select your destination… this will be your USB stick!:
Wait till the copying is done :
When done, unplug your USB stick and connect it to your PC Transfer all save data to a safe location. Now we have to copy the firmware update on our stick: download and extract the firmware update you downloaded, you should have a PUP file of about 180-200Mb. Copy the file on your USB stick in the following folder structure :
Now drag the update file in the "Update" folder, Then rename the file to "PS3UPDAT.PUP". you are now ready to update!
Insert the USB stick in your PS3, Last chance removes any blue ray game disks.. then navigate to "settings/system update" and choose "update via storage media" :
Your newly downloaded firmware information should come up: make sure it is CFW you expected:
Accept the user agreement and start the installation.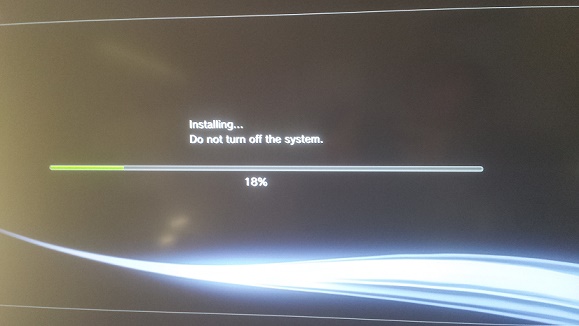 Your PS3 should turn off and go in update mode & shut down when ready… after a few minutes turn back on your PS3 and navigate to your system information :
Your system should now be updated
[/su_spoiler]
[su_spoiler title="F.A.Q." style="fancy"]
-PS3 Can't Find the update file?
+ Make sure you are on a custom firmware, this guide will not work on original PS3's. You can always try entering recovery mode and install the update from there, this will fix your problem in most cases.
-I want to install a lower version than the version I have installed now :
+This is not the right guide for you, check Here for the downgrader guide
(I do not promote CFW for playing pirated games)
[/su_spoiler]