After installing CFW, you may experience some problems with your CFW not playing games, lagging or randomly freezing. This guide will make your CFW run as stable as possible.
[su_spoiler title="General Problems" style="fancy"]
General problems that may occur after installing or updating your Custom Firmware:
– Random game freezing
– Games returning to XMB
– Games starting but freezing on a black screen
– Extremely slow loading, lagging video's
[/su_spoiler]
[su_spoiler title="Access PS3's recovery menu" style="fancy"]
First turn off Playstation®3.
Then hold The power button down… The system will turn on and turn off again.
Once the System has been shut down, re-press you finger until you hear 2 consecutive beeps… After you hear the 2 beeps take your finger off the power button.
You will be prompted to plug in your controller via USB and then hit the PS button, the Recovery menu will pop up: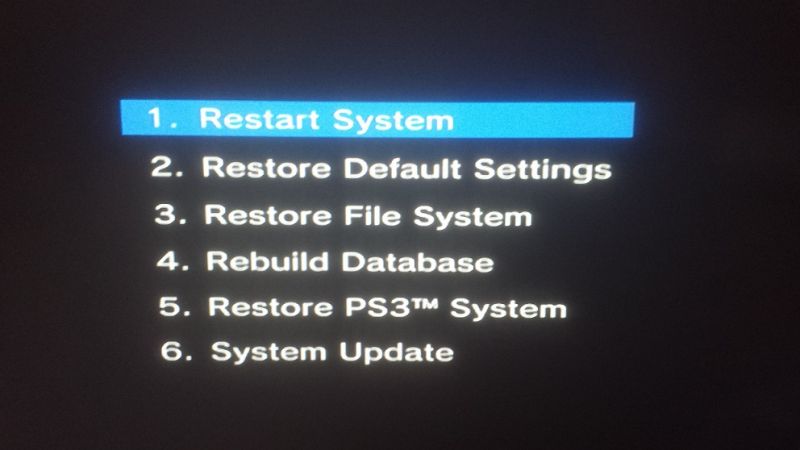 [/su_spoiler]
[su_spoiler title="Restore Filesystem" style="fancy"]
First choose "3. Restore Filesystem", this will check your HDD's filesystem for any corrupt or unusable data and fixes these files. No user-data will be deleted.
[/su_spoiler]
[su_spoiler title="Rebuild Database" style="fancy"]
Warning: Rebuilding the database may in some case delete: Online PSN data, messages, playlists, changes on information screens, trimming information for pictures, self-created albums, video thumbnails, video playback history, video resume information, registered peripherals, and the HDD model and serial number. To keep your PSN data, backup your "xRegistry.sys" file in "/dev_flash2/etc/xRegistry.sys" and restore after you've optimized your CFW.
"Rebuild Database"  which should be option 4 will rebuild the OS for the PLAYSTATION®3, rebuilding the database may take a while depending on how many games or data is installed on the internal HDD(amount of files on HDD).
F.A.Q: My PS3 is stuck or froze during the rebuild database?
Answer: Try again a few times, if the problem persists one possibility is your hard drive is failing. Make backups of everything you can now. Then try to rebuild the database again. If that still doesn't fix your issues. Try doing a complete backup to an external hard drive and wipe your PS3 clean with the "Restore PS3 System" option.
[/su_spoiler]
[su_spoiler title="Update Game Managers" style="fancy"]
Games are still freezing, lagging or returning to XMB you could try updating or using another "Game Manager", some managers have troubles with different kind of CFW releases so always try to keep the loader up to date. Here is a list of popular loaders:
* Multiman
* Gaia Manager
* Iris Manager
* Rogero Manager
(Make sure you download the right version for your CFW)
[/su_spoiler]
[su_spoiler title="Other solutions" style="fancy"]
* Try with only 1 HDD connected, some Firmware or game managers may have problems with multiple external HDD's.
* Try removing some data, PS3 HDD's tend to have troubles when over halfway full.
* Try enabling BD-emulator in your game manager (should be enabled for each game separately).
* The CFW you installed may be an early release or unstable, you could try another CFW using THIS tutorial(Ferrox, Habib, Darknet, Rogero,  Rebug…)
* To keep your PS3 running smooth, it's recommended to follow these steps every few months, especially when having many game backups installed on the internal drive.
[/su_spoiler]